This project has retired. For details please refer to its
Attic page
.
---
---
org.apache.tiles.jsp.taglib
Class AddListAttributeTag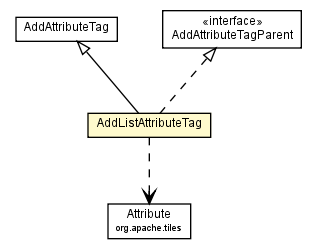 java.lang.Object
  javax.servlet.jsp.tagext.TagSupport
      javax.servlet.jsp.tagext.BodyTagSupport
          org.apache.tiles.jsp.taglib.TilesBodyTag
              org.apache.tiles.jsp.taglib.AddAttributeTag
                  org.apache.tiles.jsp.taglib.AddListAttributeTag

All Implemented Interfaces:
---
public class AddListAttributeTag

extends AddAttributeTag

implements AddAttributeTagParent
AddListAttribute tag implementation.
Since:

Tiles 1.0

Version:

$Rev: 734389 $ $Date: 2009-01-14 14:38:06 +0100 (mer, 14 gen 2009) $

See Also:
---
Methods inherited from class java.lang.Object
clone, equals, finalize, getClass, hashCode, notify, notifyAll, toString, wait, wait, wait
AddListAttributeTag

public AddListAttributeTag()
getAttributes

public List<Attribute> getAttributes()
Get list defined in tag.

Returns:

The list of attributes.
---
setValue

public void setValue(Object object)
Sets the attribute value.

Overrides:

setValue in class AddAttributeTag

Parameters:

object - Attribute value. Can be a String or Object.
---
doStartTag

public int doStartTag()
Specified by:

doStartTag in interface Tag

Overrides:

doStartTag in class BodyTagSupport
---
doAfterBody

public int doAfterBody()
PutListAttributeTag may not have any body, except for PutAttribute tags.

Specified by:

doAfterBody in interface IterationTag

Overrides:

doAfterBody in class AddAttributeTag

Returns:

SKIP_BODY.
---
processNestedTag

public void processNestedTag(AddAttributeTag nestedTag)
Process nested ≶addAttribute> tag. Places the value of the nested tag within the AttributeContext.It is the responsibility of the descendent to check security. Security will be managed by called tags.

Specified by:

processNestedTag in interface AddAttributeTagParent

Parameters:

nestedTag - the put tag desciendent.
---
---
Copyright © 2001-2009 Apache Software Foundation. All Rights Reserved.