This project has retired. For details please refer to its
Attic page
.
---
---
org.apache.tiles.evaluator
Class AbstractAttributeEvaluator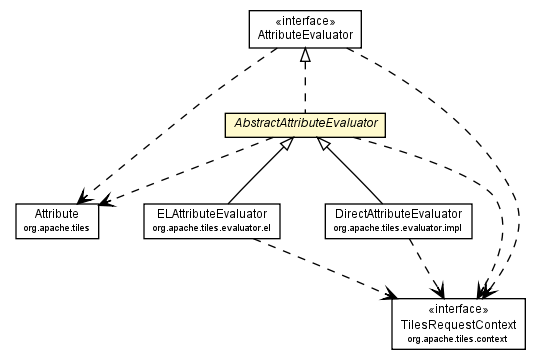 java.lang.Object
  org.apache.tiles.evaluator.AbstractAttributeEvaluator

All Implemented Interfaces:
Direct Known Subclasses:
---
public abstract class AbstractAttributeEvaluator

extends Object

implements AttributeEvaluator
Abstract class to link a correct evaluation of an attribute, by evaluating Attribute.getValue() and then Attribute.getExpression().
Since:

2.1.2

Version:

$Rev: 734389 $ $Date: 2009-01-14 14:38:06 +0100 (mer, 14 gen 2009) $
---
Methods inherited from class java.lang.Object
clone, equals, finalize, getClass, hashCode, notify, notifyAll, toString, wait, wait, wait
AbstractAttributeEvaluator

public AbstractAttributeEvaluator()
evaluate

public Object evaluate(Attribute attribute,
                       TilesRequestContext request)
Evaluates an attribute value.

Specified by:

evaluate in interface AttributeEvaluator

Parameters:

attribute - The attribute to evaluate.
request - The request object.

Returns:

The evaluated object.
---
---
Copyright © 2001-2009 Apache Software Foundation. All Rights Reserved.