---
---
org.apache.tiles.startup
Class DefaultTilesInitializer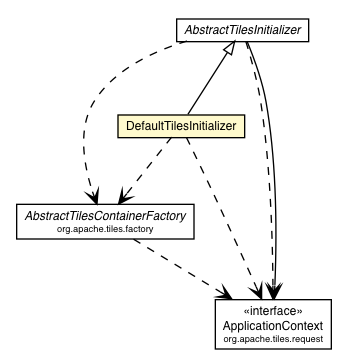 java.lang.Object
  org.apache.tiles.startup.AbstractTilesInitializer
      org.apache.tiles.startup.DefaultTilesInitializer

All Implemented Interfaces:
---
public class DefaultTilesInitializer

extends AbstractTilesInitializer
Loads Tiles with the default settings.
Since:

2.2.0

Version:

$Rev: 833737 $ $Date: 2009-11-07 14:17:09 -0500 (Sat, 07 Nov 2009) $
---
Methods inherited from class java.lang.Object
clone, equals, finalize, getClass, hashCode, notify, notifyAll, toString, wait, wait, wait
DefaultTilesInitializer

public DefaultTilesInitializer()
createContainerFactory

protected AbstractTilesContainerFactory createContainerFactory(org.apache.tiles.request.ApplicationContext context)
Creates a Tiles container factory. If you override this class, please override this method or AbstractTilesInitializer.createContainer(ApplicationContext).

Specified by:

Parameters:

context - The servlet context to use.

Returns:

The created container factory.
---
---
Copyright © 2001-2012 Apache Software Foundation. All Rights Reserved.