---
---
org.apache.tiles.extras.complete
Class CompleteAutoloadTilesListener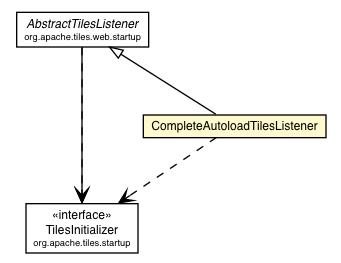 java.lang.Object
  org.apache.tiles.web.startup.AbstractTilesListener
      org.apache.tiles.extras.complete.CompleteAutoloadTilesListener

All Implemented Interfaces:
---
public class CompleteAutoloadTilesListener

extends AbstractTilesListener
Tiles listener that executes CompleteAutoloadTilesInitializer.
Since:

2.2.0

Version:

$Rev: 799008 $ $Date: 2009-07-29 14:46:16 -0400 (Wed, 29 Jul 2009) $
---
Methods inherited from class java.lang.Object
clone, equals, finalize, getClass, hashCode, notify, notifyAll, toString, wait, wait, wait
CompleteAutoloadTilesListener

public CompleteAutoloadTilesListener()
createTilesInitializer

protected TilesInitializer createTilesInitializer()
Creates a new instance of TilesInitializer. Implement it to use a different initializer.

Specified by:

Returns:

The Tiles servlet-based initializer.
---
---
Copyright © 2001-2012 Apache Software Foundation. All Rights Reserved.